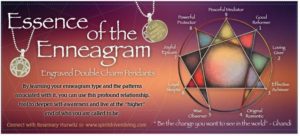 I designed each of the 9 Enneagram pendants which are offered to my workshop participants to choose their types 's symbol or take- away.  As well, it is offered here to anyone who may know their Enneagram type.
Here is a REVIEW:

Dear Rosemary,
 The beautiful Enneagram pendant arrived safely yesterday.  Thank you so very much!  It is very lovely and beautifully conceived – my place in the Divine Design clearly marked and my strengths affirmed.  I love knowing that you have these to share with people who study with you, and thank you. 
With best wishes, Betty
It comes gift boxed with a card with helpful information and a "mantra" for your type.
To Order an enneagram pendant (shown Above) click on your type below:

(Price of $25 each includes shipping and tax)   [show_wp_shopping_cart]
---
TYPE ONE, THE GOOD REFORMER: [wp_cart_button name="Enneagram Pendant for Good Reformer " price="25.00″]
---
TYPE TWO, THE LOVING GIVER: [wp_cart_button name="Enneagram Pendant for Loving Giver " price="25.00″]
---
TYPE THREE, THE EFFECTIVE ACHIEVER: [wp_cart_button name="Enneagram Pendant for Effective Achiever " price="25.00″]
---
TYPE FOUR, THE ORIGINAL ROMANTIC: [wp_cart_button name="Enneagram Pendant for Original Romantic " price="25.00″]
---
TYPE FIVE, THE WISE OBSERVER:  [wp_cart_button name="Enneagram Pendant for Wise Observer " price="25.00″]
---
TYPE SIX, THE LOYAL SKEPTIC: [wp_cart_button name="Enneagram Pendant for Loyal Skeptic " price="25.00″]
---
TYPE SEVEN , THE JOYFUL ADVENTURER: [wp_cart_button name="Enneagram Pendant for Joyful Adventurer " price="25.00″]
---
TYPE EIGHT, THE POWERFUL PROTECTOR: [wp_cart_button name="Enneagram Pendant for Powerful Protector " price="25.00″]
TYPE NINE, THE PEACEFUL MEDIATOR: [wp_cart_button name="Enneagram Pendant for Peaceful Mediator " price="25.00″]
---