WELCOME!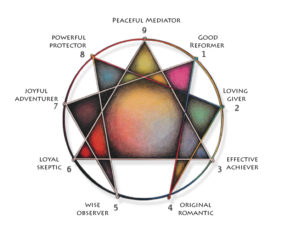 FOR 15+ YEARS, I'VE BEEN Coaching clients through their unique and practical wellness "map" on the time-honored Enneagram  to live a more empowered life.   It is what I am called to do. 
TO FACILITATE AND AWAKEN THEM to their essential self, where they are safe, joyful and thriving, is among my greatest joys!
ABOUT SPIRIT DRIVEN LIVING,
AND THE ENNEAGRAM, and rosemary

SPIRIT DRIVEN LIVING is about living from the inside out.
It is about deepening your connection to Spirit and protecting that connection. It is about having a guide when you get lost or distracted off the path; one, who can help you back to what is true for you. Spirit Driven Living does not concern itself with a particular kind of religion, but rather assists people in developing their whole potential. It does this by helping them to understand what it looks like for you when you are in stress- reacting and surviving, AND what it looks like for you when you are centered- safe, secure, often pro-active and thriving! It is with a close look at yourself like this that you can motivate yourself to live more often from the "higher" aspects, not the "lower" ones of your personality.
THE ENNEAGRAM, is an ancient and new thought holistic system for understanding the nine universal, personality types. We all share aspects of the nine types, and,  it is in one of them that we have our home. Said differently, one of the 9 types is dominant within each of us. It is so freeing to know this and see a specific trajectory for your life.  It resonates deep within.
The Enneagram is a profound and practical map for deepening self-awareness, developing compassion for yourself and others, and strengthening your intuition and connection to your spirit, where you are safe, enlivened, empowered. When the relationship with ourself is healthy, healthy relationships with others follow.
Below is a poem for you that I wrote in April 2017, and that a favorite teacher/mentor Carolyn Myss emailed me with a few treasured words: 1 review: "Rosemary, your poem is exquisite.  Caroline Myss"
with love,
Rosemary Hurwitz
This Poem was sprouted via glorious Springtime and the Enneagram's wisdom!
Rising Up With Spring; more or less
by Rosemary Hurwitz 
More letting go and letting God – feeling lighter,– less angst
More balance in my giving and receiving,– less false pride and resentment
More connecting with my inner feelings and truth,– less image and role baggage
More and consistent baby steps toward dreams in ordinary ways,– less longing
More heart to heart connections,– less collecting of information
More trust and Buddha belly breathing– less second guessing, doubt and fear
More presence and attention to life unfolding ,– less rushing around, splintering
More vulnerability, patience and love for all,– less Bossy-ness
More self-expression and "dialing my true self up"– less "dialing down" and invisibility
---
I invite you to take this journey with me toward a larger view of your essential self, via my enneagram-and intuitive based coaching. You will dial into  the very you that you came here to be!
RATES: $125. for written reading + Enneagram session-phone or in person, Coaching packages of 6 or more $100. per session.  Comprehensive Written individual reading (no personal consult) $75.  $75. workshop fee. Minimum group of 3. Put one together and contact me! I have venue or I will come to your location.
TAKE THE COMPLIMENTARY ENNEAGRAM QUIZ HERE…
to get started in this rich and profound paradigm that has helped so many the world over!